Back to all posts
Posted on
Indigenous Peoples Day at NHS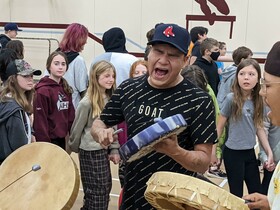 We had a super day here at NHS with Randy Weeseekase and his family drumming for students at NHS in the morning.  Ms. Miller also cooked bannock for the school this morning. Here is Ms. Miller's bannock recipe:
4 cups flour
2 tbsp baking powder
1 heaping tsp salt
1/3 cup Crisco
1 1/2 cup warm water
Hopefully, families will be able to recreate that magical bannock!  Students also engaged in lacrosse games, art projects, and studied the gym-sized Indigenous map that provided an outline a history of Indigenous People.