Astronomy Club
Welcome to Astronomy Club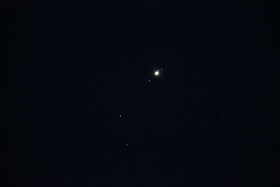 Are you interested in the night sky? Do the planets, the moon, and the sun fascinate you? Are you awed by Auroras? Mesmerized by the Milky Way? Captivated by constellations? If you answered yes to any of these questions you might like to connect with like minded students right here at NHS! 
The Astronomy Club meets every Thursday after school until 4 o'clock to talk about all things sky science. Did you know there will be a comet visable to the naked eye in mid-December or that Nasa just landed a drilling rig on Mars? These exciting events and more are yours to discover at Astronomy Club.
Membership is simply drop in when you can. Just make sure to let mom or dad know you are staying and have your ride home arranged beforehand.
Ms. Corr is hoping to bring a telecope whenever the opportunity for clear skies permits. This may mean that an impromtu meeting could be called on other days of the week to accommodate a viewing. Other viewing opportunities may take place during a weekend when later viewing is required to see constellations and planets.
Check this page often for sky news!