Book Fairs
Welcome to Dino-Mite Bookfair!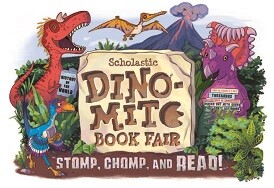 It's almost that time of year again! Our Dino-Mite Bookfair begins Monday, March 18th with a wide array of great reads for your child. The bookfair will be open daily from 8:30-4:00 pm in the racquetball courts. Parents are welcome anytime and we will be open until 9:00pm during parent-teacher interviews on March 21st. Come on down and see what we have to offer!
For the usual Book Fair contest, instead of a paper notice for you to sign, we are going hi-tech. The book fair info is posted online at Twitter and FaceBook. Simply like, share, or comment on the post of your choice for your child's name to be entered to win $25 for themselves and $25 for their teacher. If you do not have access to social media, simply send a note with your child to be entered. This must be done no later than Thursday, March 21st at morning recess (10:30am). The draw will take place at noon with the winner coming to the fair to choose their prizes at lunch recess.