Critter Club
Welcome to the Critter Club!
Our enthusiastic group is off and running for another year! Meetings take place immediately after school every Wednesday until 4pm. Students are responsible for arranging rides home if they take the bus. New members are always welcome!
Book Fair Guessing Contest!
If you can guess how many candies are in the jar, without going over, you will win the candy and stuffy!
Only 25 cents per guess!
Guesses on sale at the Book Fair 
and
Critter Club Members will be coming around to the classrooms during lunch recess 
The Critter Club & The LHS "Paws for a Cause" A Huge Success!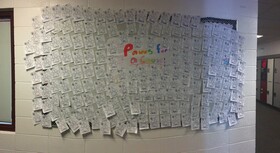 Thank you to everyone who participated in the frantic race to the finish line to see who would be the class to enjoy an ice cream sundae party! Miss Plain's 6P came out on top, thanks to the efforts of some very diligent young men who waited until the last bell rang to secure the lead. They enjoyed their party on Monday. 5W came a close second with 5G not far behind. Both Classes were treated to an ice cream sandwich for their valiant efforts.  We raised $379 for the homeless pets at the shelter. Great job NHS everyone!
Christmas Supply Drive for the LHS!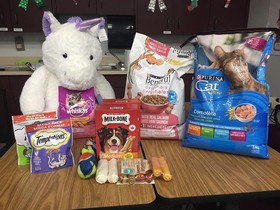 The critter club is hosting a Christmas Fundraiser for the homeless pets at the shelter. You can find the link to their wishlist is below. Donations do not have to be new. If you have lost a pet and have toys, beds, or supplies left, they become a beautiful tribute when you donate them to an pet in need. Perhaps your pet has outgrown a collar, or refuses to eat a certain type of food...bring it in :) Food, treats, and toys are always a welcome donation but you might see some things on the list that you have laying around the house creating clutter that you can donate. Perhaps you bought a new laundry soap that makes a family member itch?Bring it in - there is always laundry to do at the shelter! 
Every donation brought in earns the student a house point and an entry to win a giant unicorn stuffy! The deadline is Wednesday, December 19th when the Humane Society will visit the school to pick up their donations.
Thank you in advance for your help in this worthy cause to help the homeless pets in our community :)
How Many Candies in the Jar!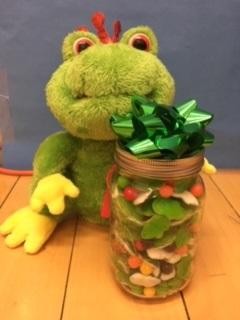 Critter Club Fundraiser
The guessing contest raised $64.00 for the homeless pets at the shelter! Congratulation to Kaitlyn in grade 8 who guessed the closest to the correct total of 248 with her guess of 239! Kaitlyn won the stuffy and the jar of candy. Thank you to everyone who participated in this worthwhile cause!
1st Fundraiser is Great Success!
On Tuesday, the Critter Club hosted our "Scare and Share" movie event in the library. It was a great success raising $122 (!!!!) for the homeless pets at the shelter!