Learning Commons
"Libraries stand for Freedom, privacy of thought, search and expression. They stand for private study in a social space. They are safe, places of sanctuary and they are trusted." - Roly Keating
Author Visit 2019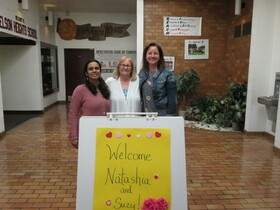 Students were greatly entertained by the presentations of Suzy Vadori and Natasha Deen. There is just no better education than participating directly with the human beings behind the printed words we read. These two authors brought a great deal of energy and humanity to our students. Thank you to Cenovus Energy and The Young Alberta Book Society for this tremendous opportunity! #Cenovus #Young Alberta Book Society
Author Visit Was a Big Hit with NHS Students and Staff!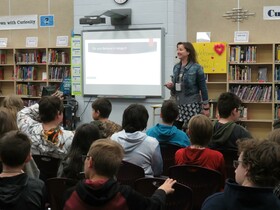 Thank you Suzi Vadori for your very informative presentation to our students. The students were very engaged and certainly enjoyed the lollipops! Even the teachers were taking notes! #Cenovus #Young Alberta Book Society
Author Visit Was a Big Hit With NHS Students and Staff!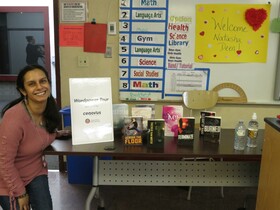 Author Natasha Deen brought a great deal of humanity to her sessions. Speaking as a young girl leaving Guyana, South America to come to Edmonton, Alberta, Natasha wove her tale of learning to love her own skin through the heartbreak of racism and ultimately turning that experience into a passion for reading and writing. Thank you Natasha! #Cenovus #Young Alberta Book Society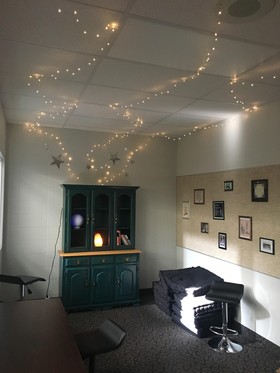 The Library Learning Commons is the Hub of the school! It houses 32 chromebooks as well the library collection. Classes are often taught within the library and we have a smart board and a giant screen with projector to fit teacher's needs.  We now have a brand new breakout room for teachers and EA's to use with small groups of students or perhaps a group of students needing a space to work collaboratively on a project. This breakout room has been furnished with subdued lighting and comfy cushions and is known as our Zen Den. It is often used as a quiet space for students to relax and get away from the sometimes chaotic academic world. The library is open during lunch recess for students who wish to choose books, sit and read, or work on homework/projects. As dynamic as the library can be, it is also a respite for those looking for a quiet place to read, study, work on homework or simply collect their thoughts.   
The library is our "Curiosity Shop", encouraging all students to be curious about the world around them and to head to the learning commons to find the answers to all their burning questions - either through the books on the shelves or our collection of Chrome books. Check out our curiosity page of interesting sites and topics!
We are all Knights on a Quest for Knowledge!